Other Services
Download our Credentials Brochure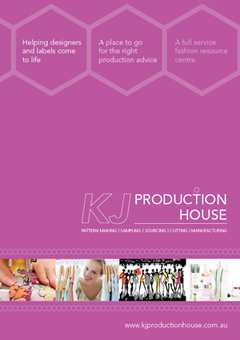 Fashion Branding
KJ Production House is fortunate to have an in-house marketing and creative service that is available for all clients to use at any time.
This is an extension to KJ Production House which assists clients in the development of their new fashion label brand. With this further guidance from an experienced marketing and creative professional, the release of your product / range should be more rewarding.
Marketing, Branding and Graphic Design Service
MJ Marketing Group can work with you to create your brand. From name development, logo design and marketing planning - through to web site build, "Look Book" creation and photography.
It is really important to be ready for the open market and to have a complete marketing pack to show your prospective buyers.
For more information about this part of the service and to review the credentials of MJ Marketing Group, please visit
http://www.mjmarketinggroup.com.au
or call Marton Jakab directly on 0414 431 010
or email