Other Services
Download our Credentials Brochure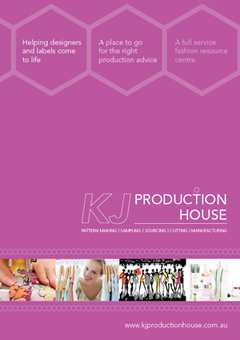 Clothing Sampling
The KJ Production House garment sampling service is a core part of what we do. We work with designers to create their dream piece and in many cases an entire range in preparation to release to the open market.
There are always many things that need to happen throughbout this process simultaneously. The team here at KJ Production House make sure that the garment sample is produced as efiiciently as possible.
Fashion Garment Sampling Service
This is one of the most exciting stages of production where we produce your first 3 dimensional garment and see your ideas come to life. This process is important because it allows you to see the fit and whether your vision actually drapes and fits the way you want it to.
Adjustments and variations can be made at this stage prior to going into grading and prior to full production.
Fitting Service
Seeing your fashion garment that you created on a fit model or mannequin can be a very exciting time for both the KJ Production House team and our clients.
The pattern maker will make sure that it fits correctly to the required size and shape as final alterations do happen at this stage ensuring a superior garment goes in to production.
We offer this clothes fitting service at our office or at any location that suits our clients.
To start the conversation with KJ Production House, and obtain a cost for any of the above sampling service, please contact Karen Jakab on 0404 015 780 or email
karen@kjproductionhouse.com.au