Other Services
Download our Credentials Brochure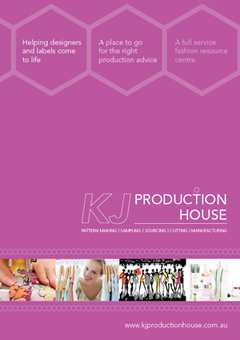 Pattern Making
KJ Production House offers all the pattern making services that you need in creating a garment. Our experienced team are available to meet with you and use the latest Gerber software. Our services also includes digitising and grading as well as a fitting service at sample stage.
Pattern Making Services
Pattern making is an art form. It requires technical expertise, knowledge, experience and accuracy. Without a pattern, a fashion label cannot be done. This is why it is such an important step in creating your clothing or garment label.
Experience is paramount because a pattern forms the foundation of your design. Our outsourced team of pattern makers work closely with the KJ Production House and its clients to deliver this important stage of the production process.
Our pattern makers have been in the industry for many years and are experienced in customising a pattern for any garment design. They know the industry and have created hundreds of patterns for designers across Australia.
All patterns are created using the latest Gerber software and accompanying this are the specifications, make and design sheets as well as illustrations of your design with full garment construction details. The process is all managed by a production manager working with you on your new fashion label - advising you along the way.
Digitizing
Digitizing a pattern is a process that involves creating a soft electronic copy of your hard copy patterns (only necessary if you have cardboard patterns). This process is useful because it becomes an electronic archive and can be used as a starting point for all future production.
Our digitizing service is quick and cost effective and we can cater to patterns of any size and shape. .
Grading
Grading is not a complex process, nor is it an expensive one. It starts by creating your fit approved base size (usually a size 10) and then graded incrementally to create a full size set. You can nominate specific sizes and stagger production volumes.
To start the conversation with KJ Production House, and obtain a cost for any of the above pattern making services, please contact Karen Jakab on 0404 015 780 or email
karen@kjproductionhouse.com.au