Other Services
Download our Credentials Brochure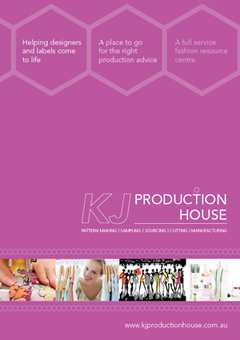 Clothing Production Management
KJ Production House offers a unique and very useful service to the fashion industry. If you need advice on anything fashion production related, we can help.
Production Planning, scheduling and quoting
This is where it all starts.
After an initial meeting with KJ Production House, the team can assess your needs, aspirations and requirements. As a client, you will also get a better understanding on how our clothing production and manufacturing business works and the value you can get out of using our large range of fashion production services that we offer.
We believe that it never hurts to start a conversation, have a coffee and a chat about bringing your fashion idea to life.
Whether you are starting at the beginning, middle or end of the fashion timeline, we can assist you in all your requirements. KJ Production House will put a plan together to give you a better idea of what is involved and how much things actually cost.
We welcome anyone across Australia to contact us – Sydney, Melbourne, Brisbane, Adelaide, Canberra, Perth, Hobart and anyone in between. Our head office is currently based in Sydney, however we cater to the needs of the fashion industry in all states. In today's world, business can be carried out no matter the distance using Skype, email and phone calls.
What we think is more important, is to find a clothing production and manufacturing service that is easy to deal with, professional, experienced, cost effective and consistently delivers quality fashion labels to the market.
Production Consulting
KJ Production House also offers fashion design businesses – small or large, an outsourced production consulting service. You still may want to produce your garments yourself, but need some strategic advice and direction along the way - at the beginning, middle and the end – we can assist.
To start the conversation with KJ Production House, please contact Karen Jakab on 0404 015 780 or email