Other Services
Download our Credentials Brochure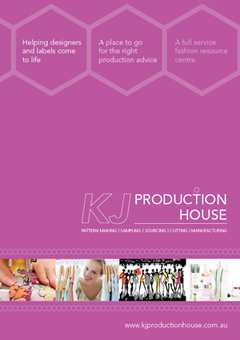 Fabric and Accessory Sourcing
KJ Production House offers designers advice on both fabrics and accessories. This is preferably done at the beginning of the fashion production process. How may we help you?
Fabric Sourcing and Advice
KJ Production House is associated with many suppliers ready and willing to discuss your fabric needs. They are located throughout Sydney, Melbourne, Queensland and even New Zealand and we have been working with them for many years.
As part of our overall production management service we also offer fabric advice to assist with you making the best selection for your design ideas. Fabrics play an integral part of your design, however from our experience, choosing the right type at the beginning and getting professional advice from us, may eliminate any issues that may arise at the manufacturing stage ensuring a more successful outcome.
Accessory Sourcing and Advice
Accessories for your garment can be sourced from anywhere in the world. It just depends on what you envisage will work with your garment. It just takes time and research to get there. We can help you and guide you in the direction you need to go.
However, if you like, we can also offer our accessory sourcing services at a fee of course to spend time to source whatever item you may need to create that amazing garment.
To start the conversation with KJ Production House, please contact Karen Jakab on 0404 015 780 or email
karen@kjproductionhouse.com.au